Coffee Morning
29th January, 11:00 - 12:00
Is living in Lockdown making you desperate to mix and mingle? Would you like an opportunity to tell anybody, even your Club colleagues, how you exercise? Would you welcome a break from home-schooling your children, holding meaningful discussions with your partner, or falling asleep in front of the television?
Why not meet up at the virtual coffee morning on Friday 29 January.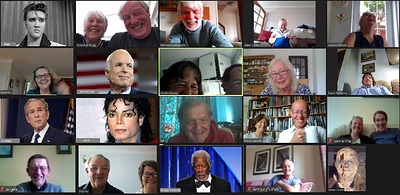 We will link up from 11:00am using "Zoom" with the Barista as your host. It is easy to drop in and drop out of a session as convenient. If there is a high turnout, Zoom's "Breakout Room" facility will allow us to divide into smaller groups for 10 to 15 minutes at a time.
If you are new to Zoom, you may find "Introduction to Zoom" helpful. Alternatively, go to the Zoom Users & Participants help page where you will find answers to most questions and access to some useful videos.
An email will be sent to all members on Thursday evening (28 January) with an invitation to the meeting plus a "backup". Zoom may automatically end the meeting after 40 minutes. If the consensus is to continue, the "backup" invitation will be used.

Last updated 11:06pm on 18 January 2021