RYA Annual Inspection
Published 09:21 on 27 Sep 2020
Last Friday, 25 September, saw the Club's annual inspection by the RYA. Seafarers is a Recognised Training Centre and needs to comply with strict governance procedures if we are to be allowed to deliver RYA courses. The Inspection is a key check of our business and the management team behind our training were all 'on parade' - Dave Grout (Chief Instructor Sailing), Dick Banks (Chief Instructor Powerboats), Carol Wealthy (Training Secretary), Viv Rance (Safeguarding Officer) and Phil Warwick (RYA Principal) were all present to host Wayne Shirley for the afternoon. The 2 RIBs and 12 club dinghies were all washed down with sails and foils laid out and equipment double checked prior to Wayne's arrival. The clubhouse and garage were immaculate and all the necessary paperwork and safety processes updated.
The Inspection lasted 2 hours and we are pleased to report that the Club passed with flying colours. The successful course that we did run, the Covid-19 security measures put in place, the standard of boats and equipment and the expertise and enthusiasm of the training team were all fully recognised as first rate. To give you a feel for how well we did and the level of the checks, the 3 pick ups were: re-secure one of the small 'P-brackets' that hold the spinnaker sock in place in one of the Stratos, replace a piece of string with a bungee cord at one end of one of the toe straps in the other Stratos and, finally, to include a short paragraph in our operating procedures that outlines how we implement the effective safety management system that is already in place.
Well done to the team on Friday and all the instructors and volunteers that make training at Seafarers safe, fun and successful. Let's just hope that the challenges to do with managing Covid-19 can be further mitigated and plenty of training courses offered for members in 2021. Be ready to sign up; demand is usually high!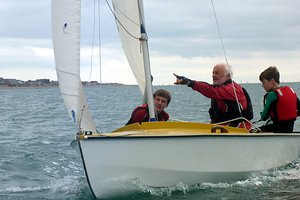 Last updated 21:25 on 10 May 2021