Push the Boat Out - A Success
Published 00:32 on 21 May 2019
I am delighted to report that Seafarers' first Push The Boat Out event seems to have been a real success. This initiative is an RYA promoted event held during May each year designed to encourage people to try sailing, often for the first time, and engage with their local clubs. After much planning Seafarers opened their gates to the local community on the 19th May.
We decided to organise this by targeted advertising across youth groups and in the local community and to help manage numbers and optimise the experience, we invited those interested to pre-book a slot on the club events booking system. We considered our capacities to deliver this safely and 48 was a sensible number to target. We were pretty close to this in the build up to the day and with the anticipated few 'walk ins' and a few 'no shows', we ended up taking 54 newbies sailing! As hoped many of these were young families. This all felt about right and certainly meant that we could personalise the experience for everyone and ensure they had a great time.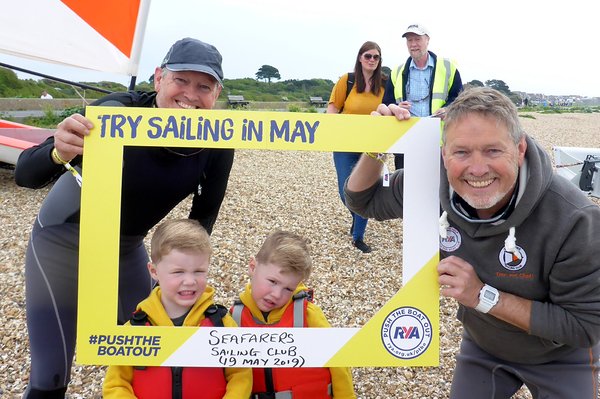 Three Club dinghies, the RS Venture and two Laser Stratos, plus two more Stratos and a Wayfarer belonging to Club members were used for the event manned by experienced helms. Both of the Club's Patrol Boats (PB) were also afloat.
Each new sailor was treated to a 45 minute 'Try Sail' and despite variable winds, a small shower and, even, some sunshine, there were lots of smiley faces. For evidence, go to the Gallery.
We also provided hot drinks, squash and lots of homemade cakes, with all profits going to charity. The RNLI and HM Coastguard also attended, as requested, and used our event to facilitate their work with the community and promotion of their safety at sea messaging.
. . .
In addition to the obvious enjoyment provided by the event, other notable successes were:
We have now filled the Summer beginners training course
We have almost filled the new Junior Cadet training course.
A number of families have decided to join Seafarers.
The modest charge for refreshments raised about £30 for the Club's 2019 charity, 'WetWheels'.
I am very aware that this was a bold step for Seafarers to take and was not without significant work from many not least the dinghy helms and the PB crews who spent up to 4 hours on the water and the 30 other Club members (new and not so new) who worked hard on the day. Many, many thanks. The Committee is delighted that we have further enhanced our presence within the community, have filled up our training courses, attracted some new members and reached out to a younger demographic. Above all though we are delighted that through Seafarers we have helped expose the joys of sailing to others and hopefully focused them on the importance of learning to sail in a safe and fun way.
David Grout
Honorary Membership Secretary and Chief Instructor (Sailing)
Seafarers Sailing Club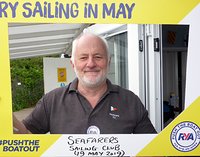 Last updated 21:27 on 6 June 2019